What Makes Our Products Special
...a survey of Learning Vitamins® features!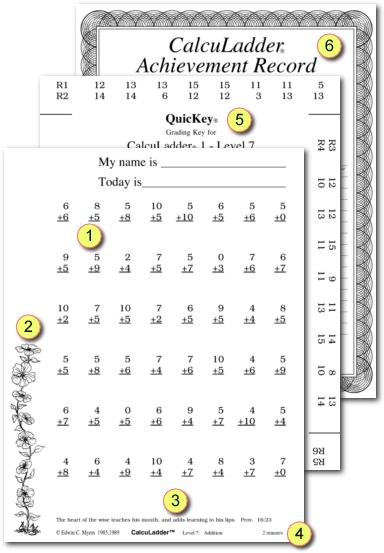 Each drill builds on previous drills, com­bin­ing new learning with relevant review!

Graphics that "grow" up the page add to
the fun!

Bible verse on each page relates to the topic of study!

Time goals add challenge and
build speed!
Clever QuicKeys® make grading a breeze!
Beautiful Achievement Records chronicle student progress!
Brief, practical SmartGuide™ gets you going in minutes!
Learning Vitamins are quick, effective...
Learning Vitamins help children become better doers. With these objective drills, both you and your kids will know just where you are, and how far you've come after just a few short months! Weak areas will stand out clearly, helping you direct your teaching energies where they're needed most.
Virtually every second spent on Learning Vitamins sharpens skills. Thus, the drills can be very brief—typically 2 to 5 minutes—yet very potent. It's amazing how such a quick, daily activity can produce such praiseworthy results.
Learning Vitamins are so quick, simple, and flexible that you can use them at home or school. Tutorial, remedial, gifted, self-instructional, or summer review—these drills can handle it!